The Hokkaido Ski Club team is a group of professional snowsports instructors, coaches and mountain guides. Every member of the team brings a wealth of knowledge and expertise, with over 100 years of total shared experience in the international snowsports industry. We are all English speaking as well as multi-lingual. So whether this is your first or tenth time in Hokkaido, our team will show you something new, something unique and something different.
Anthea Hung – Director
Hometown: Melbourne, Australia | Languages: English, Cantonese
"Live as if you were to die tomorrow. Learn as if you were to live forever – Gandhi"
Anthea has extensive experience in management, teaching and training, her career spanning over 15 years in snowsports, government, and music industries. Combining her commercial business background together with her snowsports passion, she has travelled to and worked at resorts around the world. They include Australia, Canada, France and Japan. Anthea is an accomplished and qualified ski and snowboard instructor. She specialises in teaching children, adolescents and beginner adults, bringing them life and love for the sport. Anthea is also a classically trained violinist and pianist, and a lover of travelling and fine Japanese cuisines.

Miha Grilj – Snowsports Manager
Hometown: Ljubljana, Slovenia | Languages: English, Slovenian
Miha has long been involved in snowsports with 15 years experience in the industry. Skiing since the age of 4, his remarkable talent in alpine and telemark skiing saw him rise to the position of Head Coach of the Slovenia Telemark Demo team. He has held this position for the past 5 years. He has skied across Europe and Japan, where he has also served in numerous snowsports management roles. Miha is both a professional ski and telemark instructor, and ISIA certified telemark trainer. He teaches all levels as well as guides tours into the backcountry. When he is not skiing, Miha finds himself engaged in other sports including mountain biking, golf and sailing, and has a weakness for Japanese whiskies.
Tim Betts – Ski and Snowboard Instructor
Hometown: London, United Kingdom | Languages: English
"The Japanese Powder Snow of Hokkaido is so Amazing we have a special word for it = JAPOW!"
With over 20 years experience in snowsports, Tim's passion for the winter is indisputable. This will be his 10th winter season in Niseko as an instructor, holding qualifications in both ski and snowboard. Tim has also travelled to the French Alps, Andorra and the Canadian Rockies. But teaching in Niseko, and introducing visitors to skiing and snowboarding in the amazing quality dry powder snow brings him back every year. In between chasing winter seasons around the world, you'll find Tim in the countryside uni-cycling and rollerblading, or in the water scuba diving and kayaking.
Max Giutronich – Ski/Snowboard Instructor, Freeride and Backcountry Guide, Advanced Coaching Program
Hometown: Sydney, Australia | Languages: English, Japanese
"Life is like snowboarding; you must get up every time you fall. Once you stop falling, you then begin to enjoy it. If you stay down, you will never see why people love it so much." – William Nepe
Max is an expert snowboarder who knows the Japanese mountains and backcountry like the back of his hand. Snowboarding from age 4 in Thredbo, Australia, Max has added New Zealand, Switzerland, Sweden and America to his list. First visiting Japan in 2006, the coming season marks his 9th winter season instructing, and his 6th in Niseko. Max teaches all levels with specialisations in freestyle coaching and backcountry guiding. When Max is not on the mountain he is surfing on a beach or serving works of art as a cocktail artisan.
Uroš Grilj – Ski/Telemark Skiing Instructor, Freeride and Backcountry Guide, Photographer
Hometown: Ljubljana, Slovenia | Languages: English, French, Slovenian
With over 10 years of guiding and mountaineering experience in the European Alps and Japanese mountains, Uroš possesses alpine knowledge and experiences that are shared by few. Skiing since the age of 3 before adding telemark skiing and mountain climbing to his bag of skills, he has combined his passion for the environment and outdoors into his year-round job as a professional mountain guide. Uros first visited Niseko back in 2015 and regularly tours, hikes and guides in the region including summiting Mount Yotei. Bringing a smile to all is his mantra, whether his students are beginners making first turns on a baby run or advanced skiers shredding powder between the trees. He is an avid rock climber and also currently part of the prestigious IFMGA mountain guide program.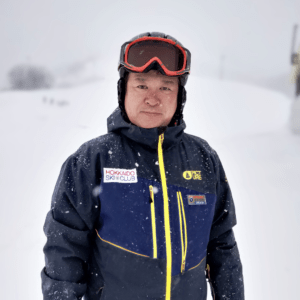 Atsushi Masuhara – Ski Instructor, Freeride and Backcountry Guide
Hometown: Niseko, Japan | Languages: English, Japanese
Atsushi is a Niseko local with a highly impressive history that few can share. Born in Niseko Town, his professional ski career extends over 40 years. Starting as soon as he could walk, Atsushi quickly advanced into competitive alpine racing in his youth, winning the Niseko technical ski championships on several occasions. He then moved into ski instructing and guiding, a passion that he has continued to share with his students over the past 25 years. With Niseko being his backyard, Atsushi offers an unmatched perspective of Niseko ski history and culture. He has seen the area undergo rapid change and development over the decades, recounting stories that are unknown to most. As a true local of Niseko, Atsushi holds unique tips and recommendations that cannot be found in any guidebook.
Mateo Abascal – Ski Instructor
Hometown: Patagonia, Argentina | Languages: English, Spanish
Born and raised in Patagonia, Mateo's first ski moment was on the slopes in the south of Argentina where his mother brought him at the age of 3. Eventually moving to Canada, he dedicated his active lifestyle to swimming for which he achieved national level status. His interest in the mountains however never left him. After completing a degree in Urban Planning, he returned to his childhood dream and moved to Whistler to pursue a career in skiing. Since then, Mateo has taken his skiing globally including Switzerland, New Zealand, Argentina and Japan. A curiosity for travel and adventure has taken him to 40+ country in 5 continents. Introduced to Japan during his travels, you can find Mateo in Niseko ready to share a new and exciting adventure.
Laurie Almond – Ski Instructor and Advanced Coaching Program

Hometown: Manchester, UK | Languages: English
Winter in the mountains is Laurie's passion. Starting on skis in Andermatt, Switzerland at a very young age, Laurie has built a well-rounded career in the snowsports industry. The breadth of his knowledge has not only been drawn from his years as a ski instructor and coach for moguls and alpine racing but also as a ski technician, boot fitter and lift operator. He has also competed on the international circuit in slalom, moguls and skiercross disciplines. With such diverse experiences, Laurie loves sharing them with guests of all ages and abilities. When off the snow, he can be found enjoying his other loves of fitness, classical piano, and motorbiking in Europe.
Jack Sheu – Ski/Snowboard Instructor
Hometown: Richmond, USA | Languages: English, Mandarin, German
Jack fell in love with snowboarding his senior year of university. After a decade of work at world-class organisations in management consulting, international development, and tech in Silicon Valley, he turned his focus toward self-development and rethinking how we educate children. Coming to Niseko for the first time in 2014, Jack felt the exhilaration and freedom of surfing powder in Hokkaido. Excited to share this amazing experience with others, he quickly attained the teaching and avalanche safety certifications to make this pursuit possible. Since then, he's made Niseko his home, along with his wonderful wife and two loveable young children, ages three and five. Jack has travelled to 38 countries, played piano with professional orchestras, fought as an amateur boxer, and performed briefly as a salsa dancer. He adamantly believes old dogs, such as himself, can learn new tricks.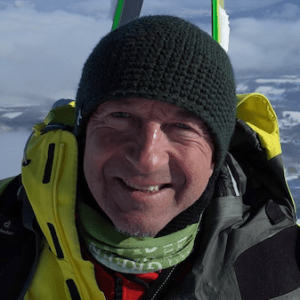 Cveto Podlogar – Freeride, Backcountry and Mountain Guide-in-residence
Hometown: Saitama, Japan | Languages: Slovenian, Japanese, English
The mountains are our playground, let's play together!"
Cveto brings to Hokkaido Ski Club qualifications and experience that are extremely rare to find. He has worked as a professional mountain guide since 1999 and is accredited by both UIAGM International Federation of Mountain Guides and JFMGA – the Japanese Mountain Guide Association, which he is the first non-Japanese national to have been accredited. Cveto has now lived in Japan for 26 years, arriving after travelling by bicycle across China and Tibet. Originally from Bled, Slovenia, he was a member of the Slovenian national cross country for 9 years and seven-time winner of the national cross-country competition. If you want to find Cveto, then look outdoors somewhere on a mountaintop.
Marija Humo – Ski Instructor and Advanced Coaching Program
Hometown: Belgrade, Serbia | Languages: English, Serbian
"The great secret of education is to use exercise of mind and body as relaxation one to the other." – Jean-Jacques Rousseau
Marija is a devoted ski instructor and race coach, with a professional racing career and a national champion status in alpine skiing that extends over 13 years. Her teaching approach of patience, persistence and positive reinforcement inspires students to enjoy the process of learning and development. She teaches skiers of all levels, as well as specialises in teaching carving level technique. Powder snow skiing, psychology and Japanese cuisine and haiku poetry are just a few of Marija's passions. She is currently studying Philosophy and loves to practise yoga in her free time.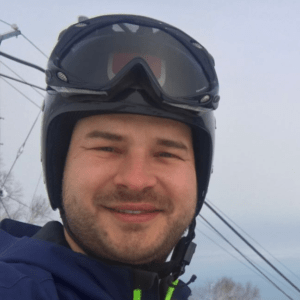 Slaven Badura – Ski Instructor and Advanced Coaching Program
Hometown: Sarajevo, Bosnia & Herzegovina | Languages: English, Russian
Slaven is a highly-skilled instructor with credentials that include former FIS World Cup alpine racer. He has skied professionally for over 20 years, of which 10 years were spent in competitive racing. Slaven has raced in two world championship events and has been named Bosnian national champion on 13 occasions in various disciplines. His knowledge and love for the snow have also extended into his work. He is involved in ski resort planning and development, business operations of ski lifts, and designed snowmaking systems. In his spare time, Slaven is the chief mechanic of Mad Pad Drift team in Kazakhstan and loves car racing.