Backcountry skiing and riding is now more popular than ever before. Almost everyone that has been on a winter holiday to the mountains claims to have gone off-piste. However, very few people who start out in the backcountry understand the associated risks. They venture out without the necessary knowledge, failing to take the appropriate safety measures and putting themselves right in the danger zone. Not a good place to be.
This article is a guide on how you can get started safely in the backcountry. Backcountry skiing/snowboarding can take you to some of the greatest snow on earth. But it can be a dangerous hobby so you need to be aware of the risks and act smart. It is important to note that this article only scratches the surface of a complicated in-depth topic. Don't expect to be charging down near vertical lines instantly. It requires many years of extensive studying and experience before certain lines should even be considered. We all have to start somewhere, so with the right preparation, you can make your first steps into the backcountry in a short while. Let us guide you into the wonderful world of the backcountry!
Who wants to go backcountry with me?
So, you have determined that your level is sufficient and now you would like to head into the backcountry. It seems tempting to just cut from piste to piste. You might wonder, is this a safe way to start? The answer is, unfortunately, no. Avalanche danger is present as soon as you leave the slopes so there is a chance that an avalanche occurs between the slopes as well. Therefore, you will need to come prepared.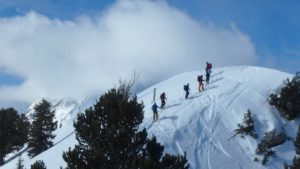 Finding some friends who either have experience in the backcountry, or friends that are equally interested riding the backcountry is key. A good crew is very important when venturing out the back, as they are your biggest chance of survival in case of an emergency. Following an introductory course to the backcountry is something we also highly advise. It is best to follow this course with people that you are likely to be going with in the future. Heading out without any knowledge is asking for trouble.
The bare essentials you need.
At the very least, you will need a backpack, a probe, shovel and avalanche beacon. It is also handy to carry first aid equipment with you, and a phone. There are several other pieces of equipment you can add to your kit. However, it is important to prioritise. Buying an ABS airbag before purchasing a probe, shovel and avalanche beacon is plain foolish. Make sure to purchase and get familiar with the essentials first!
In any case, it is always best to hire a qualified guide to take you on your first few backcountry experiences. There is simply no way that you will instantly know what to do. Let a professional guide show you what to do, so that you can focus on finding the best stashes of powder!
The basics
There are many factors that come into play with backcountry skiing and riding. In this article, we will discuss some of the factors that cause avalanches, and things you should look out for in the terrain when venturing off-piste. There will be more blog posts on this topic throughout the winter, so make sure to stay tuned!
How avalanches are caused
Avalanches are caused by a combination of the following factors:
Wind
Terrain shape
Slope direction
New snowfall
Steepness of the terrain
Human factor
Wind
Wind is the ultimate avalanche engineer. You only need a little bit of snowfall combined with strong wind in order for an avalanche situation to become critical. Paying close attention to the wind is one of the most important things to do.
Terrain shape
There are many different terrain shapes. Some are more prone to avalanches than others. Gullies, troughs, couloirs and slope edges all pose high avalanche risks for example. It is important to read into terrain shapes and learn how to identify them when observing the terrain around you.
Slope direction
The direction of the slope plays a huge factor in the avalanche risk. Most avalanche accidents (70%) occur on North Facing slopes for example. This is because the snowpack takes more time to set due to the lack of sunlight. North facing slopes are tempting, as they usually contain the best powdery snow. Be very aware of these slopes. They are easily identified, as they are the mountain slopes that are in the shade for the most part of the day.
New snowfall
Snowfall amount is another factor that should be examined at all times. The avalanche risk rises tremendously after a period of heavy snowfall, especially in combination with a lot of wind. Monitoring the snowfall and the layers it produces in the snowpack is crucial. The presence of weak layers, in particular, need to be identified because they are major contributors factors to the triggering of slides. We want to find out how the weak layers came to be, and where these can be found.
Steepness of the terrain
The steepness of the terrain plays another huge factor in the avalanche risk. Most avalanches occur on a slope that is steeper than 30°. Always look at the steepest part of the slope in order to determine its angle of incline. As a rule of thumb:
Avalanche danger level 5 (most dangerous): Backcountry riding not recommended at all. Have a cup of hot chocolate and stay indoors.
Avalanche danger level 4: Avoid slopes that are over 30°. Other flatter areas can also be dangerous depending on the terrain type.
Avalanche danger level 3: Avoid slopes greater than 35°. Slopes greater than 30° should be skied one at the time.
Avalanche danger level 2: Avoid extremely steep terrain. Be aware of crossing slopes that are 30° or steeper.
Avalanche danger level 1: Apart from extremely steep terrain, most terrain is safe to ride.
Human factor
Humans are the most important avalanche factor. We are able to determine whether a tour or slope is safe and rideable. It is important to objectively identify if you should be venturing to a certain slope. This requires the right experience, personal ability and knowledge of the terrain. It is important to note that the avalanche doesn't care about how good you are as a skier/snowboarder. Be humble. Let the conditions, the terrain and your crew determine your choices in the backcountry.
Things to look out for in the terrain
Cornices
Cornices indicate that strong winds have occurred. Dangerous snowdrifts can be found on the lee-side of the mountain.
Drifting snow
Drifting snow is one of the main causes of avalanches. You can recognize drifting snow by looking at the terrain. Are there many snow dunes formed for example? Can you spot wind tracks on the snow surface?
Recent avalanches
The most obvious and important thing to look out for is recent avalanches. Have a look around, and see if you can spot them. Ask yourself the question: why did that avalanche occur, and does this influence my terrain decisions?
Cracks
Cracks in the terrain often indicate that the snowpack is ready to break. It is time to make your way out of the area when you hear whumping and settling noises. These whumping and settling noises should be taken very seriously. They are an indication of a weak snowpack, so stay clear of the area!
Grab your gear and join us!
We hope that this article has interested you in learning more about backcountry riding. There are many elements that come into play on the mountain. This article merely scratches the surface of a very broad and fascinating topic. Freeriding is the best thing on the planet, but we have to make sure to stay safe and respect the mountain.
Hokkaido Ski Club is offering an amazing backcountry camp in Niseko this upcoming winter. This Beyond the Niseko Boundary event will give participants an introduction to and closer look at the backcountry conditions in the region so make sure to join us if you can! Otherwise, you can always contact us for any questions regarding this subject. We want you to stay safe and ride around with the biggest smile on the mountain!