If you are in Japan this coming summer and looking for an interesting place to visit (or planning your post-COVID travel bucket list), look no further than Furano. Located in central Hokkaido amongst the Mount Tokachi mountain ranges, this well-known winter destination is considered to be a Hokkaido summer hotspot. There are a great variety of things to do and see, and the weather hovers at comfortable temperatures of low 20s. These pleasant conditions, the fresh air and sunny blue skies make it popular, particularly for the Japanese locals.
There are a host of activities to enjoy in both Furano city and the surrounding areas. From frolicking in lavender fields, to hiking mountains and sampling delicious melon-flavoured soft cream ice-cream. Here are some ideas of sights worth visiting and things to do during your stay.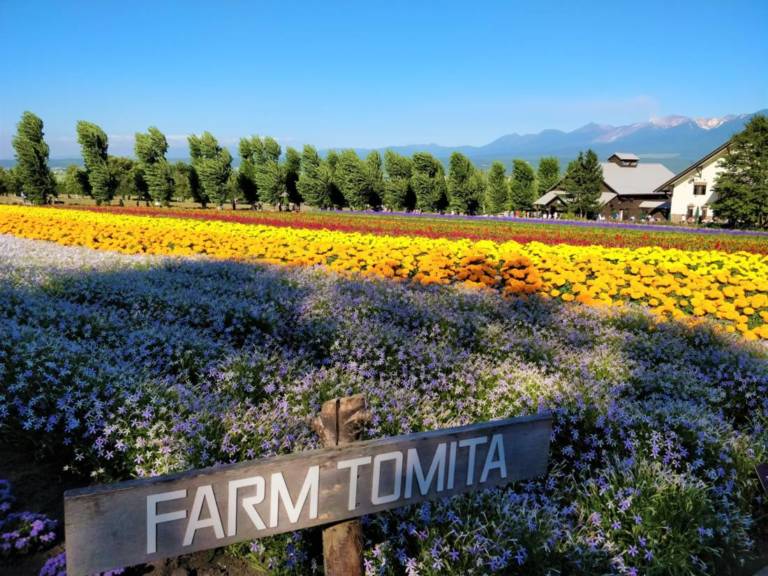 Be prepared to be stunned by a rainbow of bright and beautiful blooms at the famous Tomita Farm. This farm attracts hundreds of thousands of tourists every year who visit to marvel at the fields of lavender,  tulips and other flowers. Take your time to walk through the farm and enjoy the colour and vibrant beauty of the carefully tended blooms, before treating yourself to a delicious lavender or melon soft cream from the shops on-site.
The stunning blue-coloured lake can be found in the town of Biei, approximately a 30 minute drive from Furano. Tucked in among the forest of Japanese birch trees, this man-made lake was built as a diversion for potential future volcanic eruptions from Mt. Tokachi after its last eruption in 1988. It is from the accumulation of natural minerals from Mt. Tokachi volcanic area that causes the radiating eye-popping blue colour. You can enjoy the view from an easy path that winds around the lake.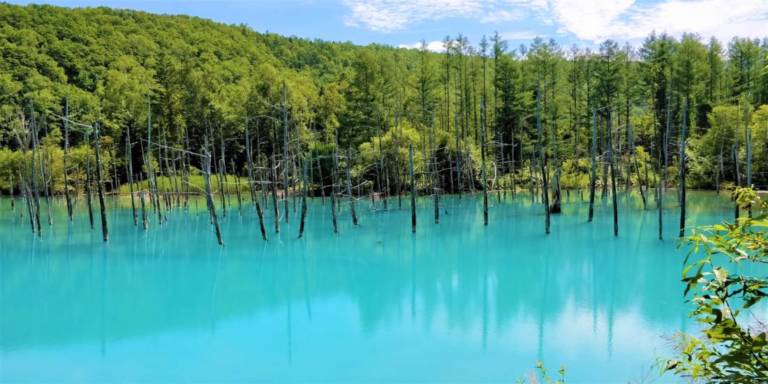 Mount Tokachi is an impressive sight that defines the Furano landscape. It is an active volcano with vents that billow sulphurous steam and smoke, attracting both tourists and hikers. Recognised as one of Japan's 100 famous mountains, it is considered a pilgrimage for hikers.
Hiking to the summit of Mount Tokachi is recommended for experienced hikers only. However, there are some easy paths near the Tokachi Observatory that can be accessed by those who prefer a leisurely pace. Comfortable walking shoes are recommended and make sure to check the weather forecast as the weather changes quickly in the mountains.
When you visit Furano, you must make sure to treat yourself to a plate of omucurry. This dish has been taken from the classic Japanese omurice and given its own twist. The classic omurice is composed of a perfectly cooked soft  and thin egg omelette placed over a bed of fried rice. Then adding the Furano touch, it is accompanied by a delicious spicy curry. Furano takes great pride in their omucurry, with an Omu-curry Promotion Committee and the condition that all ingredients in the dish are locally sourced from the area.
There are always onsens to be enjoyed when there are volcanoes nearby, which makes Furano and the nearby towns of Biei and Kamifurano onsen havens. Being located at the base of the Tokachi mountain range, they have access to mineral-rich water that provides bathers with various health benefits. Visitors will be spoilt for choice in bathing options, from onsen hotels in Furano city to campsites with onsens up in the mountains.
Hokkaido Ski Club offers guiding in the Furano area as part of its Green Season Guiding Program. If you would like more information on our guiding program in Furano or assistance with booking your holiday in Furano this summer, submit a booking via our portal or contact the Concierge Team at Hokkaido Ski Club at [email protected].