We love to share our passion for skiing and snowboarding with others here at Hokkaido Ski Club. We teach children and adults how to ski and snowboard during their winter holidays. They come back every year, and it brings us so much joy to see them improve and enjoy their time on the mountain. However, for most people, skiing and snowboarding are fun holiday activities. So when we hear that one of our former students, 14-year-old Samantha Zhong from Hong Kong, has taken her recreational skiing to the next level, we could not be more proud. Samantha recently participated in a ski racing program at Killington Mountain School (KMS) in the US. I caught up with Samantha to find out more about her experience.
Q: How did you find out about this program?
Samantha: I had initially planned to join a 3-week skiing program in Oregon a couple of years back. However, the trip was cancelled due to Covid, and since travel was no longer allowed, I stopped skiing for 2 years. I missed it a lot, so after researching, I found KMS. They offered a 3-week and 5-month program in ski racing, so I decided to go with the 5 months program.
Q: Why did you choose ski racing?
Samantha: KMS offers 3 ski disciplines – park, alpine and moguls. I chose alpine skiing because the program was more aligned with my interest in speed and carving. During my ski holidays before COVID, I participated in a Giant Slalom (GS) ski camp and went down GS courses for fun. So it was these experiences that sparked my interest in Alpine Skiing.
Q: What does a typical day in the ski racing program look like for you?
Samantha: The course involves morning sports and gym to warm up before Slalom, and Giant Slalom training from 9am-12pm. Then it's off to school in the afternoon from 1pm before free time in the evening.
Q: How was the experience?
Samantha: The program has been so much fun. It was difficult initially as the other students had previous ski racing experience, unlike myself. However, I learned a lot and could catch up after training hard. I believe it is because I had a good foundation in the fundamentals of skiing that I could catch up really quickly. I did train on an indoor ski training machine during the 2 years I couldn't ski. It may have helped me regain some muscle memory when I was on the course, but it's very different from actual skiing.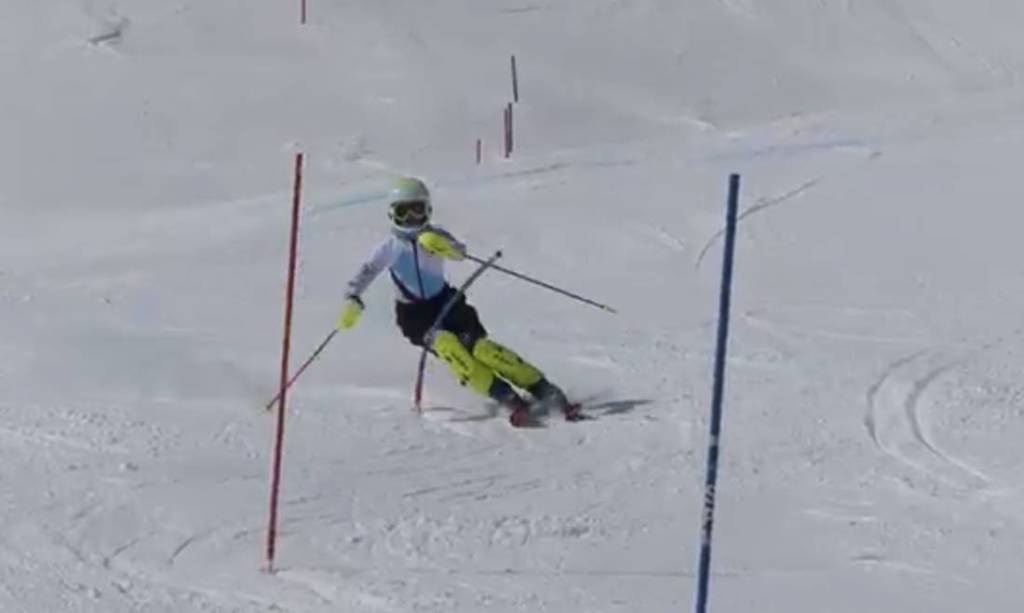 Q: How much skiing have you done before this program?
Samantha: I first started skiing in Lake Tahoe when I was 3 years old. After that, I skied in Niseko every season until COVID hit. To sum it up, I have 10 years of skiing or 300 days in total. So that would be roughly 30 days per season, minus the covid years.
Q: How did you come to love skiing?
Samantha: It's actually my time in Niseko that made me love skiing. I always refer to Niseko. In fact, most of my memories are from Niseko – skiing with family, and friends, the Lucky 50 gondola. It is all these memories that made me fall in love with skiing. I can even remember the trail map and all the trails! I really miss the powder in Niseko. There are powder days in the US but nothing like Niseko.
Q: How was your time with Hokkaido Ski Club?
Samantha: It was so much fun! I skied with my brother, Nathan, and our ski coach, Miha, and we skied powder and went off-piste for the first time. He also introduced us to Niseko Village as I had only skied Hanazono and Hirafu resorts before. It was so nice to be exposed to something different. We got many videos of me skiing powder, and I have a whole ski album with all the photos and videos. I'm so glad I had lessons, or I would never be able to ski as well as I do now. I really hope I can go back to Niseko. It made me love skiing the most and where all my memories were created.
Q: The Winter Olympics were on recently. Have you thought about becoming a professional skier?
Samantha: I watched the Olympics, and it was really exciting. One of the skiers who competed for the HK ski team skied in Niseko until 13 before starting ski racing at age 13. I applied for entry into the HK ski team, but because of COVID, the assessments and tryouts were all cancelled. So I will send videos and race results from this camp. Hopefully, I will get in and have more opportunities to train and enter competitions.
Q: Where would you like to take your skiing?

Samantha: I do love skiing, but I am choosing the academic path at the moment. I have thought about taking a gap year before college, assuming covid isn't around and becoming a ski coach. It is far away, though, so I don't know what will happen, but we'll see. To be a ski coach in the US, you need to be 15 years old. When I was younger, I was always looking up how old one would have to be a ski instructor and the process to get the license. Hopefully, I can do it after high school!
It really is terrific to see Samantha taking her passion for skiing to the next level. We wish Samantha all the best on her skiing journey, and we look forward to following her adventures!