A day of skiing and snowboarding is hard work and can put a lot of strain and stress on your body. To maintain your health and well-being during your winter holiday, there are various activities that will bring your body the treatment and relaxation is deserves. Below are some of our recommendations for health and well-being activities in Niseko that are worth checking out during your stay.
Health and Well-Being Activities
There is nothing more therapeutic than soothing tired muscles with a soak in one of Niseko's many onsens. Onsens, also known as hot springs, are great after a day on the slopes because of the positive health impacts on the body and mind. The high 40+ degree water temperatures are great for muscle recovery. It increases blood flow around the body relieving muscle pain and joint stiffness. This increases the body's metabolic rate and quickens its healing process. Some onsens also have a cold bath where bathers dip themselves between their hot spring sessions. This may sound terrifying. But the effects on the body's muscles can be astonishing. Cold water slows down blood circulation around the body and reduces swelling. The sudden and rapid change to hot temperatures then kick starts the body's recovery process. It is important to note however that this change in temperature can shock a body's cardiovascular system. Everyone is different. So know your body's limits before jumping into the cold pool.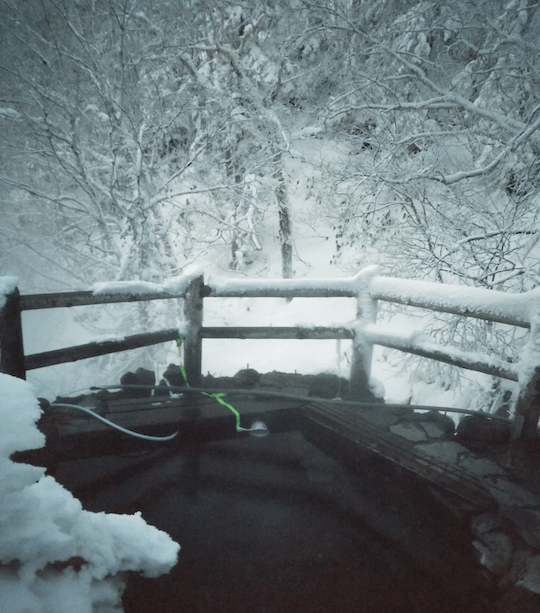 In onsen water, you will also find the secret behind the lovely skin of the Japanese. Onsen waters consist of rich minerals which have healing properties. The mineral types vary depending on the onsen. No matter which one you visit, the impurities of your skin will be cleansed away leaving it soft and supple.
The benefits of onsens are not only limited to the body. Onsens are often designed in a quiet and natural setting, and maintain a quiet and calm atmosphere. It is the perfect place to relax your mind and meditate. Whether you are in search of relief for your body aches or a beauty regime for your skin. Or you are looking to take some time for yourself. Be sure to include an onsen experience to your holiday.
Yoga is a great activity for maintaining the health and well-being of your body and mind during your holiday. Skiing and snowboarding require great amounts of energy and use of your muscles. The legs, glutes, hips and core in particular. Muscle strength and stamina is important. You will not only prevent injury but you can stay out longer on the slopes!
Just an hour of yoga is enough to stretch your muscles and maintain your body's strength. It is also good time to focus on yourself and not be interrupted by the busy life around you. So if you are a dedicated yogi and have had an active day on the mountain. Or you have decided to take a rest day or two. Either way, be sure to include a yoga session during your Niseko stay.
Everyone enjoys a massage. So you can only imagine how amazing your muscles feel after a hard charging day. Massages are a great remedy for relaxing those muscles that have been put through the stresses and strains of skiing and snowboarding. Be sure to book yourself a session at one of the many locations around Niseko or arrange an in-house masseuse if you prefer. Your body will be most thankful.