You are on a powder holiday at a resort famed for the fluffy white stuff. But every powder pocket you end up at is tracked out and that excitement quickly turns to frustration. The problem with the best powder resorts, is that they are also the most popular places to go. It is almost a definite guarantee: If a resort gets a lot of snow, people will show up to enjoy it. Think of resorts like Niseko, Whistler, Jackson Hole, St Anton. Places like this usually have a combination of interesting terrain and a fairly certain amount of snowfall throughout the winter. So it makes sense that they are visited by powder fanatics. More competition means less powder for you.
You might try to solve this by yourself, and do a bunch of research into the terrain so that you can still find the snow that you are looking for. Seems like a good plan. However, the reality might not be as you planned it. In reality, it is quite hard to find out all the ins and outs of the resort and it's neighboring backcountry. This is where a good guide comes in the picture. A powder guide can take away most of the problems that you could encounter in your chase for the best possible snow.
A good guide will be able to lead you to the best snow conditions that are available in the area. They have monitored the weather for a long period of time, so they know where the white gold can be found!
This might be the most important reason for getting a guide. He will be able to tell you whether places are safe or not. There are countless hazards on the mountain, and it requires many years of backcountry exposure and training in order to spot all of them. A good guide will have safety as the main priority. This allows you to relax and enjoy the experience a lot more. Dropping into a line not knowing if it is save enough can be a terrifying feeling. When you take this anxiety out of the equation you are left with a far more enjoyable experience. In the end, it is important that you make it back home safe. It is not a good idea to save money on safety.
If you want to get an idea of the type of risks and hazards you face in the backcountry, take a look at our introductory backcountry guide.
In most of the resorts the inbound terrain gets destroyed rather rapidly, as not many people know powder etiquette. There was a time where most people ''powder-farmed'' the slopes. This entailed that people took great care of the amount of available fresh snow in a certain area. Tracks were placed parallel to one another in the fall-line. This allowed people to enjoy an area of snow for a longer period of time.
Snowboarders and counter culture skiers changed these perfectly farmed fields to a great mess of tracks. Nowadays, it is almost impossible to find these perfectly lined up fields as both skiers and snowboarders make traverses across some of the best powder fields. We will never return to the times where runs are perfectly ''farmed''. However, a guide will be able to explain you which places make most sense to ski and will rarely take you to places that are haunted by those awful traverse tracks.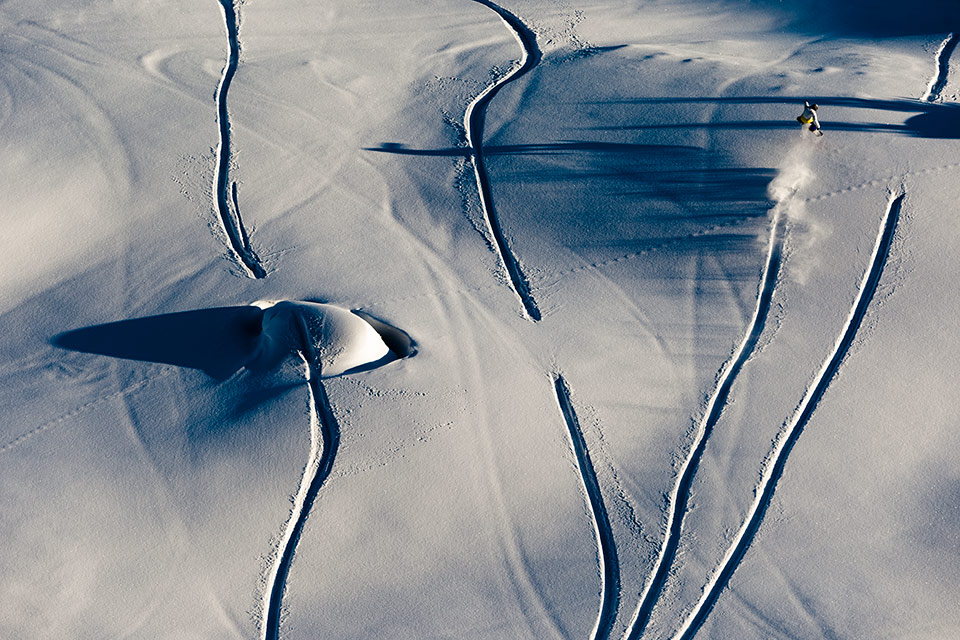 Places where nobody rides
Part of the beauty of backcountry skiing / snowboarding is that you sometimes get away from the crowds. Sometimes it can be amazing to go the extra mile, and leave the inbound powder fields. This is where the best snow and most untracked places can be found. Tour planning can be complicated, and it is therefore wise to gain experience with knowledgeable guides. Our powder guiding tours, for example, are a great way to start your powder guiding adventures. You can even pick the guide's brain so that you can one day plan your own tours. The backcountry is an amazing place. However, it is not for everyone. Respecting nature is the most important thing you can do. The best way to do so, is to head out with someone who knows about the dangers upon the mountain. Stay safe out there and let's respect the snowy slopes all around the globe!