Skiing in Hokkaido is different from skiing in any other place in the world. The high snowfall, its unique coastline, mountains that go from a few hundred meters high to volcanoes and the central Hokkaido high alpine mountains. Not to mention the excellent fluffy powder snow that keeps falling for days. The terrain is primarily hilly and not easy to get around, so you must be wondering how you can reach remote ski towns like Niseko. 
Niseko resort lies in the southern part of Hokkaido in the greater area called Shiribeshi. The central city of Hokkaido, Sapporo, is a 2 hours car drive away, and the New Chitose Airport is almost the same distance. In winter, travel can become a little challenging due to the strong winds and snowy conditions. However, you can rest assure that you can still travel in style and have the same quality service that Japan is known for.
How does one get to Niseko?
One can fly direct to Sapporo from most of the big city hubs in Asia (before the pandemic). Domestic flights from major cities in Japan connect to Hokkaido daily. From the Airport you have a few options to reach the resort town of Niseko. By far the most convenient and, of course, a little costly is private transfer but worth it for those who like to travel in style. Options like direct ski buses are also available (such services can be booked as part of our private private package tours can book such services). A more time consuming but cheaper option of travel is via Sapporo by local train. A scenic rail ride will take you through the central city of Hokkaido to Otaru and the coastal area before heading left into the mountains of Niseko. 
Our favourite way of travelling from Tokyo to Niseko is by the Shinkansen (High-speed Japanese trains) combined with the car. Currently, the line stops in Hakodate, a major tourist city in the south of Hokkaido. From there, it is a 2.5 hours car drive to Niseko. However, this will all change by 2030 with the planned construction of the Shinkansen line to Niseko and Sapporo. That will mean travelling on a train from Tokyo directly to Niseko in under 6 hours.
What is the Shinkansen like?
Train travel in Japan is on another level. Trains are super comfortable to travel on as you skip the airport check-ins and the usual trouble of navigating through the airport building. Not to mention getting to it in the first place. And trains depart on time in Japan, not a second before or after the scheduled time, which is mind-blowing. Boarding a Shinkansen is as smooth as any other Japanese train. It departs from central Tokyo, the hub for all major train lines. 
Shinkansen compared to Flights
It's no doubt the train is a pricier option than flying. However, we believe the travel time and convenience are worth paying for. If travelling with the family, the Shinkansen ticket prices will most likely be higher than flying. However, one can take advantage of half-price tickets and more promotions with the conjunction of hotel booking offered during the pandemic period.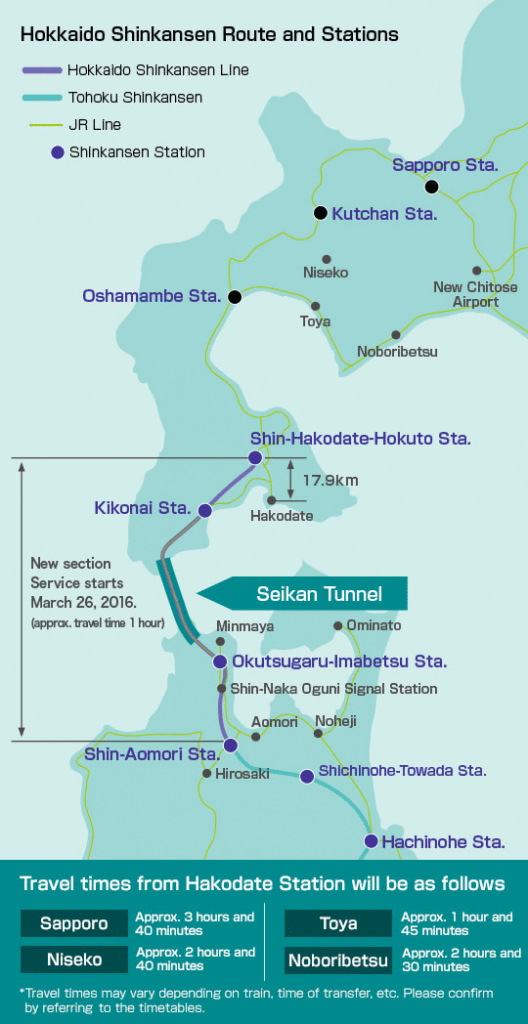 Once the Shinkansen railway construction to Kutchan town is complete in 2030 (10 minutes drive from the Niseko resort area), you can be in Niseko from Tokyo in under 6 hours. Compared to the domestic flight that takes about 1.5 hours from Tokyo plus a 2.5 hours drive and pre-arrival time to get to the airport, the train is worth it in our opinion. Of course, for inbound travellers flying directly to New Chitose airport, taking a private transfer will still be by far the best way of getting to the ski resort.
About the Hokkaido Shinkansen
The JR Hokkaido operates a 10-car JR Hokkaido H5 series aka Hayabusa (はやぶさ). There are three classes available: Gran, Green and Ordinary class. The comfortable seats, spacious legroom and oversized windows allow for enjoyable travel. WIFI works well, even in the tunnels, and one can buy a snack, bentos, and drinks. There are also many bento shops in the station so grab yourself a nice meal, a cheeky can of beer and enjoy the smooth ride while watching the countryside pass by. 
And for the train enthusiasts
The H5 Shinkansen train series is the same as the E5 series trains operated by the Tohoku Shinkansen since 2011. It has an identical maximum operating speed of 320 km/h. However, this is limited to 260 km/h (160 mph) on the Hokkaido Shinkansen and 160 km/h on the dual gauge track, which extends through the undersea Seikan Tunnel connecting Hokkaido with mainland Honshu. Many cargo trains also use this track. 
All train cars tilt by up to 1.5 degrees through curves and use smooth air suspension. The maximum speed of 320 km/h is maintained even on curves with a 4,000m radius.