Writer: Narumi Shiarishi, Marketing Specialist; Editor: Anthea Hung, COO
At Hokkaido Ski Club, our strength lies in the expertise and passion of our instructors. Take a moment to get acquainted with Martin, one of our ski instructors and ski coaches in Niseko. From the iconic slopes of Patagonia,  Argentina, Martin brings a wealth of experience and a deep love for skiing to every lesson he conducts. Whether you're our returning guest or a newcomer eager to try skiing or have a better experience, this interview offers a glimpse into the heart of our club. Let Martin's journey inspire you to experience the slopes with us.
Tell us a little bit about yourself
I am from Bariloche, Patagonia. Growing up, my family and friends were skiers at the Andino Bariloche Club, the country's oldest ski club. From a young age, the snow was a part of my life – whether I was making snowballs and snowmen or learning to ski on the slopes of Cerro Catedral, starting in 1998.
As a kid, I always enjoyed speeding down snowy hills, taking leaps, and skiing through the forests. I still enjoy them now but these days, it's also about other things. Appreciating the mountain views, enjoying a meal at the mountaintop restaurant, and being a part of the club community.
What inspired you to become a ski instructor, and when did you start teaching?
I started at the age of 18 years old at Cerro Catedral, the same club where I learnt to ski. The chance to teach what I had learnt was an honour. It also gave me a strong connection to the place where my passion for skiing started. I felt like a student by being able to put myself in the students' boots. I would teach my students the club's values, the passion for skiing and how to be a good team player from the start to end of class.
Which ski resorts have you taught at, and do you have a favourite and why?
I have taught at Cerro Chapelco and Perito Moreno resorts in Argentina, and Niseko in Japan. My favourite resort depends on who and what I'm teaching.
Niseko is really good for beginners or intermediate level skiers. There are options for fun forest and off-piste runs that don't require a high skill level. The progression there is also very interesting and different from other ski centers in Argentina. For example, Ushuaïa, requires higher technical levels due to snow type and terrain.
Bariloche is also a favourite and similar to Niseko in terms of technical progression. However, Niseko's softer snow makes it more accessible and easier to learn, which is ideal for a beginner. In comparison, Argentina's slopes tend to be icier and harder, which is better for advanced skiers.
In your opinion, what makes a great ski instructor?
A great instructor has patience, is committed to safety, communicates well, and knows how to motivate:
Patience: We all learn differently so a great instructor always makes students feel at ease, especially when things get difficult.
Safety Commitment: Although skiing is fun, a great instructor will always consider the safety of the student.
Effective Communication: Understanding a student's goals is vital, whether they aim to conquer a black slope, capture great photos, or just to have fun. A great instructor will consider their lifestyle, physical condition, and skill level to help them achieve their goals.
Adaptability: Children often like playful learning and require more attention. Adults, however, benefit more from verbal instruction and demonstrations. A great instructor knows how to use different teaching methods and adapt them appropriately.
How would you describe your approach towards teaching?
I like teaching both children and adults. The communication style of the classes are different so I adapt them based on whether they are children or adults. With children I use toys and for adults, more words and demonstrations.
My teaching approach involves offering various exercises for each technical movement, and presenting another variation if the others don't work. Given my upbringing and training was within a ski club, I can teach across all skill levels from first timers through to advanced. I have also taught students with disabilities, including a girl who was deaf and mute. With her, I had to use more visual communication such as big hand and body movements. 
What are the best and most challenging parts of being a ski instructor?
The best part of being a ski instructor? It is the rewarding feeling of seeing my students having fun and enjoying a sport I love. And to be able to do this in the outdoors and surrounded by snow-covered mountains is an experience that's hard to beat.
As for the challenging parts, it is keeping up with both the physicality and technical aspects of skiing. Maintaining a healthy lifestyle, especially with irregular meal timings, is really important. The body naturally changes over the years, so self-care is vital. Additionally, you have to stay active and upbeat. The sun in Niseko might hide for days or even weeks. So I use (and recommend) vitamin D supplements to help with this.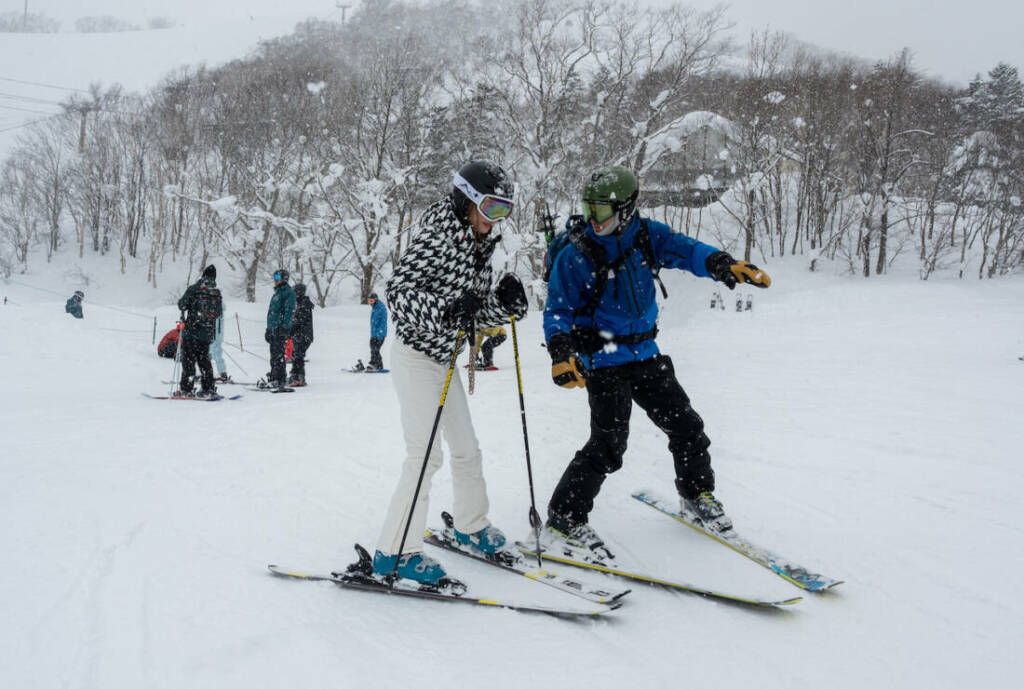 What tips would you share for budding ski enthusiasts and advanced ones looking to refine their skills?
For beginners, take it step by step. Enjoy it without fear and feel the sensation of the skies on the snow. Try to take the experience as a whole – the snowy forests, mountains, and the soft snow. Skiing is a sport with risks so be careful and find an instructor to make the learning process manageable and safe.
For the more advanced, don't get too confident just because you can ski all over the mountain. Try starting in places you have skied before and then move to other places that are more difficult.  I recommend taking at least 1 or 2 classes to refine some technical gestures and get feedback from a professional.
What's the next step in your skiing sports career?
Currently, I'm the trainer of a children's competition team. So my future goal is to become a trainer for ski instructors. To achieve that, I need to keep learning and training in different resorts around the world. And for that, I am ready.
Ready to carve your own path on the Niseko slopes? Book a lesson with Martin or one of our other expert instructors and discover the magic of skiing with Hokkaido Ski Club.