Nothing brings snow enthusiasts more joy than the continuous falling of neverending powder snow. It motivates them to jump straight into the car to head to the slopes to catch the first lift. Or it draws them to the beauty of the picturesque villages where the snow artistically drapes down from the roofs of buildings. Everybody is happy as long as there is lots of snow. However, these moments are only made possible thanks to the tireless efforts from a group of people – snowclearers. Under the cover of darkness, they remove the snow to keep roads clear, buildings and houses standing, and to enable every day life to go on. Without them winter life as we know it would be in chaos. When Hokkaido Ski Club's ski instructor and guide, Atsushi Masuhara, is not on the mountain, he is working as a snowclearer. We ask Atsushi what a day in the life of a snowclearer is like.
How does a typical snowclearing day look like?
A typical day is actually more a typical night! In the middle of the night, the company will confirm the amount of snowfall that is expected to come down for the next few hours. At 2:00am, the heavy equipment operators are given the green light to prepare all the machinery. By 3:00am, we are in the machines and the snow clearing begins. When there is a little snowfall, let's say 10cm, our working time can be as long as 4 hours. When there is a lot of snowfall, like in Niseko this season, my shift can be well over 8 hours.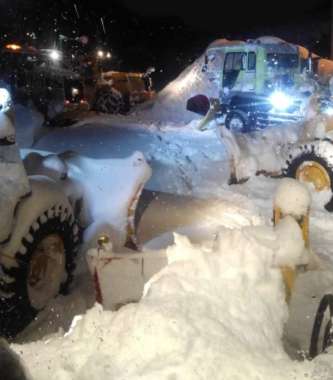 What is the most challenging aspect of snowclearing?
The logistics of where to move the snow. When there is not much snow, it is easy to push the snow to the side to clear a pathway, for example. However, when the daily snowfall exceeds our expectations, where can you move all the snow? There are nearby places where you normally move the snow to but if those areas cannot accommodate the excess amount, trying to push the snow with heavy machinery to somewhere else is difficult.
It is being said that this season has received record snowfall amounts. As a local born in Niseko and living here your entire life, would you agree?
I think this season has had the most snowfall compared to the last five years. This season is considered to be some of the best conditions by residents  who have been living here over the past few years since there are few guests in the ski resort and the snow quality is really good. For the locals who have spent their lives here however, we don't feel it so much. When it is truly a heavy snow year, it is almost impossible to make it to the ski resort and both transportation and public transportation are stopped.
What is one interesting thing about snowclearing that visitors/tourists would not know about?
That we are responsible for protecting the lives of the locals as well as tourists coming to the Niseko area. Snow removal is an extremely important task as we prevent dangerous situations from happening, such as uncleared snow sliding off the roof of a house and injuring someone who happens to walk underneath. Photos of snow mushrooms forming on the top of buildings look amazing but they can cause serious injuries (or even death in extreme situations) when they fall. A lot of what we do happens behind the scenes so not many visitors or tourists will see what we do. We also use special heavy equipment for snow removal, so if you have a chance to see it, please stop and take a closer look.
As a ski instructor and guide, you spend your day being with your guests. Snowclearing is a solo job so what do you think about while you are snow clearing?
I am usually studying and thinking about the condition of the snow that day. The job of removing snow helps you understand the snow conditions of the day before anyone else (like Niseko avalanche information, for example). As we are the first ones up in the morning and dealing with it head-on, we know what type of snow will be expected during the day. I incorporate this knowledge into my skiing work and give surprising facts and information to my customers.
Atsushi is a Niseko local with a highly impressive history that few can share. Born in Niseko town, his professional ski career extends over 40 years. He is a former ski racer as well as winner of the Niseko technical ski championships on several occasions. 
Having grown up locally and now with his own family in Niseko, Atsushi offers a local perspective of the Niseko ski culture and history. He has seen the area undergo rapid change and development over the decades, and can recount stories that are unknown to most. For a truly authentic Niseko experience, there is no better person to ask for than Atsushi.