Hanazono might be a tiny resort, but has it all! It consists of three chairlifts, Hano 1,2 & 3. These lifts give access to a wide variety of terrain. Powder, piste and terrain parks can be found within the boundaries of this resort. Let's start at the very top.
Hano 3 will give you access to a red run named Youtei sunset. This run is great fun when you are an advanced skier or boarder. Hit this slope up first thing in the morning when there is powder, as there are some nice turns to be found down this run. Hano 3 is a fast lift, so you will be able to do many runs in a short period of time. This also makes it ideal for advanced skiers / boarders to really practice riding challenging terrain. We will advise beginners and novices to stay away from this run as it is rather steep, and has a long flat part at the end.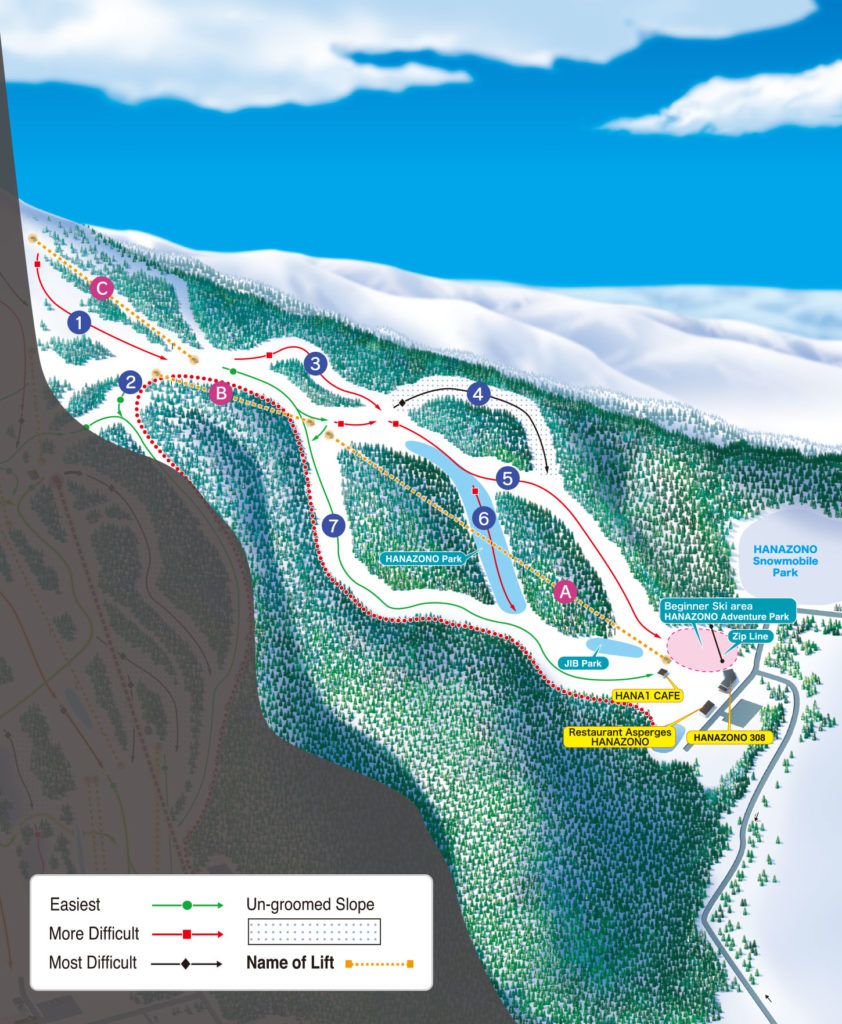 Hano 2 is a useful lift if you want to make your way over to the Grand Hirafu side of the mountain. It will also give you access to a green run called Silver Dream. This slope wraps its way down the mountain until your back at the bottom of Hano 1. It is also possible to turn to the Hanazono Funpark.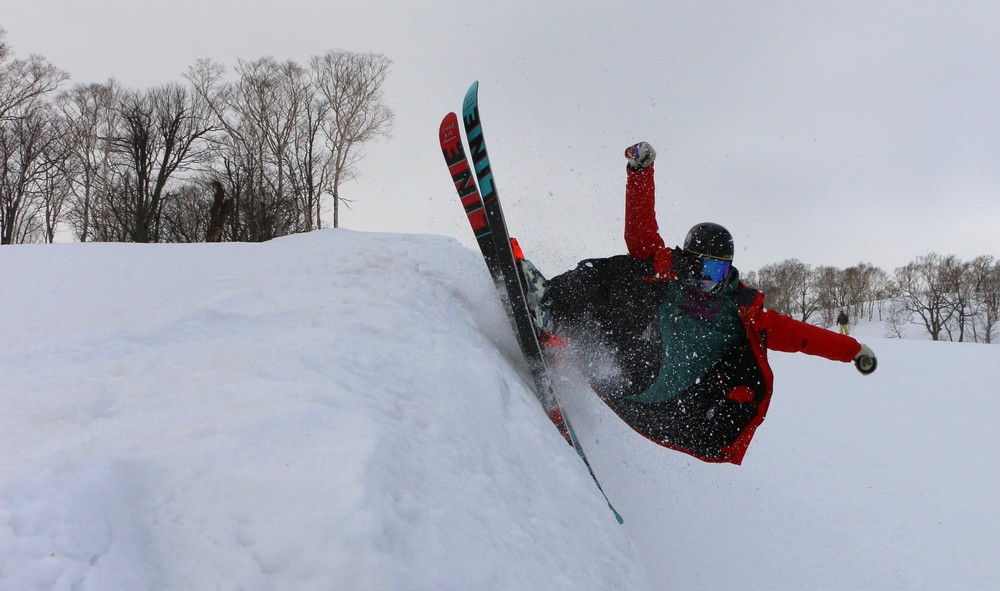 Hano 1 gives you access to a variety of runs. You can decide how challenging you want to make it for yourself. You can make your way to the lower part of the green slope Silver Dream, dive in the funpark, or go down the beautiful red slope, Stairway to Heaven. Finally, you can head down black slope, Legend of Shinya.
Strawberry & Blueberry fields are famous for their great powder potential. Strawberry and Blueberry differ, as Strawberry is a non sweep patrol area. This means that you need to be aware of all the dangers that are involved in backcountry freeriding. Don't go in there without the right amount of knowledge, skills and avalanche equipment!  The terrain in both Straw and Blueberry lend itself to that perfect powder spray. There are a ton of amazing features in the terrain that will keep even the most expert rider entertained! There is also a great fun park in Hanazono. The jumps are some of the best in the Niseko region!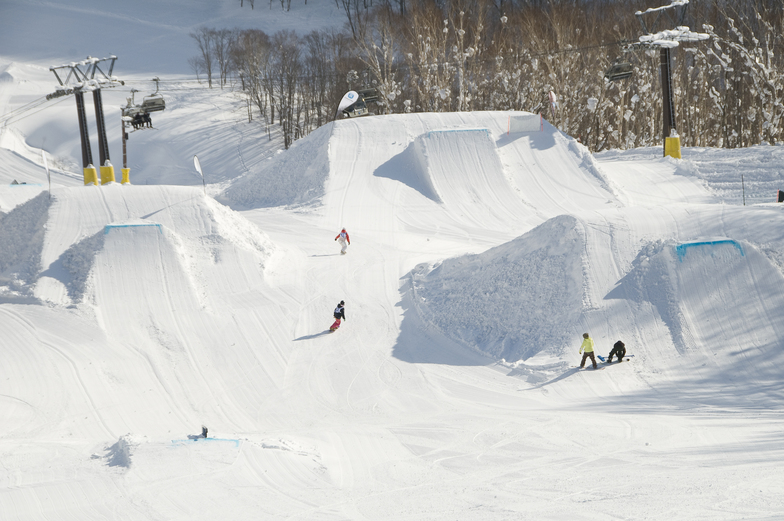 Hanazono can be a great experience for riders of all abilities. The resort might not have that much terrain, but the terrain there is quality! Hanazono also has great opportunities for Apres and Coffee. New property developments like the recently opened Park Hyatt Niseko Hanazono show that the resort continues to develop itself. The resort is an amazing all-round experience and a must visit if you are in the Niseko region!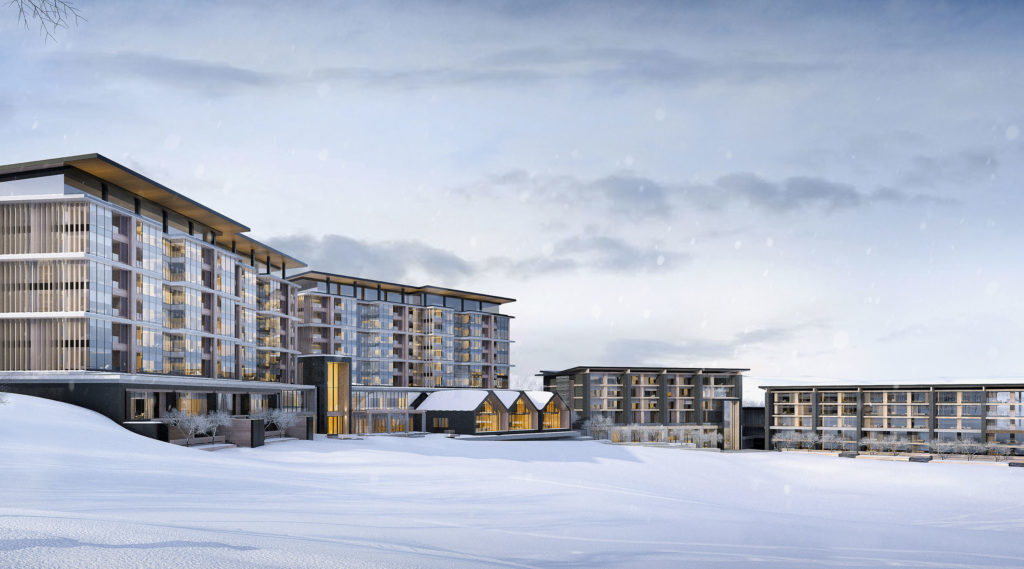 If you are interested in the lifts and terrains at Hanazono's neighbouring resort, Grand Hirafu, take a look at our blog Exploring Niseko United: Grand Hirafu. Or visit The Club Magazine for more of Hokkaido Ski Club's recommendations on dining spots, other snow-related advice and valuable Niseko holiday tips.