The Sapporo Snow Festival, called Sapporo Yuki Matsuri in Japanese, is held across three main sites over 1 week in February. It is considered one of Japan's most popular winter events. It attracts over 2 million visitors from Japan and around the world every year. This year marks the 18th anniversary of the snow festival.
The first Sapporo Snow Festival was held in 1950 when some high school students built six snow and ice sculptures in Odori Park. It was an unexpected success, attracting approximately 50,000 visitors. By 1959, there were over 2,000 people participating in the snow sculpting process and the event attracted media attention for the first time. It was during the 1972 Winter Olympic Games hosted in Sapporo that the Snow Festival gained international attention.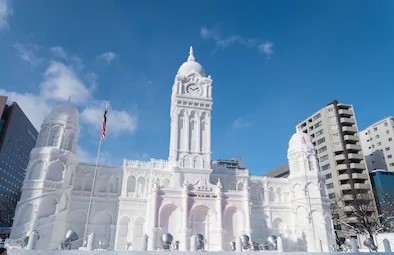 These days, the festival is divided across three locations – Odori Park, Tsu Dome and Susukino. You can start at any of these locations and make your way from one to the other.
Odori Park is the main site and the historic site of the Snow Festival. This park is 1.5km long and houses approximately a dozen of the festival's largest snow statues which can be up to 25m tall.
The park is also filled with hundreds of smaller statues which are illuminated until 10pm every evening. Concerts and events are also held here during the festival week. There are food and souvenir stalls along the side of the street, and an ice skating rink in front of Sapporo Tower. 
TIP: You can get a great view from above of the Odori site from the Sapporo TV tower located on the eastern end of Odori Park. The tower is usually open from 8.30am to 10.30pm (extended hours during the festival). There is a fee to enter the observatory deck.
Easiest way to get here: 10 minute walk from the JR Sapporo station.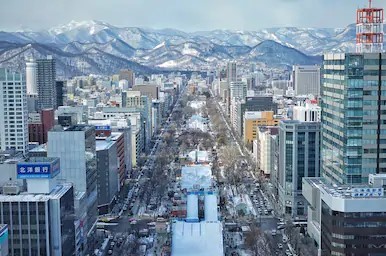 The Tsu Dome Site (Community Site), also called the Tsubame, opens a few days before the official start to the Festival. It is a family-friendly playground with three types of snow slides, snow rafting slope, snowman building area and more snow sculptures. There are also food stands and an event stage within the dome area. It is open daily from 9am to 5pm.
Easiest way to get here: Take the subway from Sapporo Station on the Namboku line. Susinko is 1 subway stop to the south of Sapporo station.
The Susinko Site is named after Sapporo's largest entertainment district and is the smallest site. Approximately 100 ice sculptures are exhibited here which illuminate until 11pm daily. The Ice Sculpture Contest is held at this location as well. 
Easiest way to get here: located outside the city centre, there are frequent shuttle buses departing from the Odori Site and Sapporo Station. Alternatively, take the Toho subway line from Sapporo Station to Sakaemachi Station. From there, it is a 15 minute walk.