Niseko has been a hotspot in Asia. Not only for powder hungry skiers and snowboarders but also for world class developers and investors. We have lived in the area for many years now and seen the number of new developments exponentially increase. It is impossible to imagine another ski resort that has undergone so much change in a short amount of time as Niseko. The area has been growing in popularity prior to the Covid-19 pandemic and continues to attract investment and development from within Japan and overseas. In this Club Insider, we will give you a short overview on the recent notable Niseko real estate developments.
Why is Niseko popular for real estate investment and development
There are many reasons why Niseko is a popular playground for investment and development: 
The area has a lot to offer both in winter and the green season (during autumn especially, which is our favourite season after winter, of course!). It has the famous amazing powder snow, local cuisine produced by award-winning chefs, various year-round activities, organic farming, mild temperatures and the spectacular views of Mt. Yotei and its unique surroundings. 

A strong and internationally recognised brand. This attracts more developments to enter the market and the resort experiences continuous growth and improvement. With more competition, the standard of high-quality service offerings and delivery keeps rising. The perceived value of the area increases attracting more developers and the cycle continues. 

The highly anticipated Hokkaido Shinkansen (high-speed train) promises a faster and easier way to reach the Niseko area from Sapporo. Construction work in nearby Kutchan town and a highway connection from Sapporo is well underway. The resort's convenience makes it a destination that will continue be more popular than other ski resorts in Japan.

The very affordable land prices compared to cities such as Tokyo and Osaka, and even ski resorts like Aspen in the US and St. Moritz in Switzerland.

 
Hopes remain high despite the pandemic, and interest and investment continue to pour in in anticipation of a bright future for Niseko. 
Hanazono has been expanding its ski-in ski-out properties with its latest addition Park Hyatt Niseko Hanazono. Park Hyatt has been a standout with all of its residences owned by both Japanese and overseas investors. It has given Hanazono resort the step-up needed to transform into a world class resort. Adding to the hotel, the resort is building new runs, a brand new 6 seater chair lift, a new gondola and adding night skiing. Up from the ski resort and nestled in the hills of Hanazono lies a world class Zaborin Ryokan. It features 15 stand alone villas with meticulously designed interior onsen baths and hosts a talented chef who sources fresh local ingredients.
More large-scale developments are also coming to the Hanazono area. The recently announced Nikko Hotels International by Okura hotels will be constructed on the former Hanazono ski resort car park. It will have over 200 guest rooms, an onsen facilities and gym. This 8-story building aims to be completed by 2024 and is focused on attracting the Japanese guests. 
If you then take a short drive away from Nikko into the Hanazono forest, you will find Capella. By Shenning Investments Singapore, it is set to become the largest development in the area when completed in 2025. There will be two hotels and three condo-hotels, all in 3-story buildings with a total of around 500 ~ 540 rooms. In addition, 33 detached villas will be built for sale. Drilling will also be done for hot spring water and well water.
If you are looking to invest in a private chalet, these next two new developments might be just for you. Both are set in the hills of Hanazono. The first one is Hanacreek by Apex Property Limited (Hong Kong). It is a 16 hectare land subdivision site with onsen access and 17 plots. Up the road is Kaba Niseko developed by the local Chalet Ivy hospitality team. This 36 plot subdivision with onsen access gives you the chance to build your dream ski chalet with views of Mt. Yotei and the Hanazono ski resort.
Hanazono is slowly becoming the center of attention. With so many new developments on the horizon, it may become competition to the bustling Hirafu village.
Grand Hirafu Village Resort
Hirafu village is center of the action of the Niseko United ski resorts with many new developments in recent years. Sansui Niseko, a ski-in ski-out hotel, was completed at the end of last year. Conveniently located on Hirafu-Zaka street it offers luxury rooms and great views of Mt. Yotei. Moving further down in the village, new condominium hotel Intuition Niseko is set to open this winter. It has an onsen and is just across the road from the always popular AYA Niseko. AYA Niseko is a ski-in access hotel that is a short walk's distance from the village center.
As ski-in ski-out locations slowly fill up, one developer still has a prime position. Korean-owned Hanwha Hotels & Resorts has started construction on large scale 120-unit hotel Matiè Niseko. Matiè Niseko is situated next to Skye Niseko on over 6,400sqm of land. It will have over 21,000sqm of liveable space across seven storeys, an underground car park and its own private chair lift. Completion is expected in 2023 and it will offer unobstructed views of Mt Yotei and easy access to the slopes. 

On the outskirts of Hirafu, Chinese-owned Sun City Group will also join the Niseko developers club. There will be more than 50 villas, 20 townhouses, a main hotel building with over 40 rooms, and multiple leisure facilities. It will become one of the largest resorts in the region with an area of 220,000sqm. It is expected to be completed by 2025.
Higashiyama Niseko Village Resort
Higashiyama Niseko Village, a Ritz Carlton Reserve is the latest of the luxury hotels being built in the Niseko Village area. It has access to an exciting shopping street and beginner friendly ski runs. Adding to the buzz in the area is another new big name large-scale development, New World La Plume Niseko Resort. Managed by Rosewood hotel group it will feature one condominium hotel with 219 rooms and five chalets in the lush natural forest of Niseko.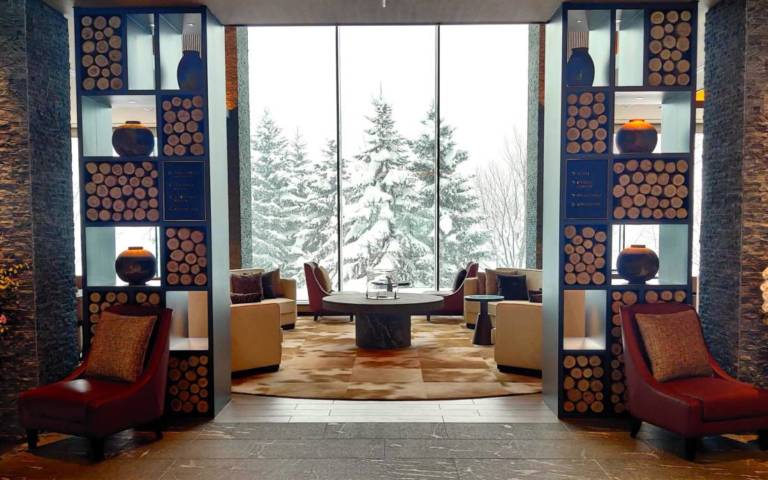 Annupuri remains the quietest for big name large scale developments. However, it is by no means lacking in quality offerings. The recently newly-built Seasons is an ultra luxurious chalet. It has 5 bedrooms, heated indoor pool, sauna, fully stocked bar, wine cellar, entertainment system, in-house chef and more. This impressive home caters to the whole family or a group of friends, and has been featured in the Netflix series "The World's Most Amazing Vacation Rentals". The chalet's team is also behind a new upcoming luxury development in Annupuri that will bring interest to this sleepy side of the mountain.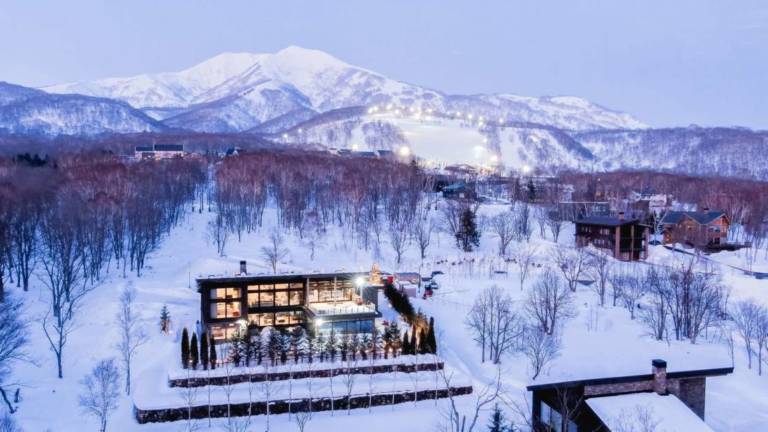 At the crossroads to the ski field lies Annupuri Gardens. This boutique-sized development comprises apartments, townhouses and villas for year round stays. On the development site there is a clubhouse with bakery, restaurant and private events space, onsen and concierge services. While other areas are quickly transforming, the lack of the ski-in ski-out opportunities makes Annupuri village less attractive to big developments. That is why you will find more chalet accommodations that cater to the families.
To the west side of Annupuri ski resort lies Moiwa, a small resort popular with the locals and not yet the part of the Niseko United lift pass. However, this small ski resort is set to transform and potentially connect with the other lift to expand more skiable terrain. Aman Niseko has been announced by Aman Resorts, which will introduce the luxury development industry and unparalleled hospitality to the Moiwa area. They will also give investors the opportunity to own a private villa.
We have covered some of the major developments in the area and hopefully given you some insight into the future direction of Niseko resort. If you are looking for information about the real estate developments or insight into the real estate market,
send us your inquiry
and our real estate partners would be happy to assist you.
If you are planning a Niseko ski vacation and would like to explore accommodation options, take a look at our recommendations on where to stay in Niseko in our articles below.
Best places to stay in Hanazono and Hirafu
Best places to stay in Niseko Village and Annupuri