Looking forward to hitting the slopes in the winter of 2023-2024? Hokkaido, Japan, renowned for its powder-filled ski resorts, is a winter wonderland for snow enthusiasts. From the slopes of renowned resort Niseko to the charming resorts of Rusutsu and Tomamu, get excited as we bring you the latest updates on when these top-notch resorts are set to run their ski lifts for the upcoming season.
Below is a list of our favourite resorts and will be updated as they release their opening dates. Contact us if you want book private ski/snowboard lessons or guided tours with our team at any of the ski resorts.
Opening Dates for Hokkaido Winter Season 2023/2024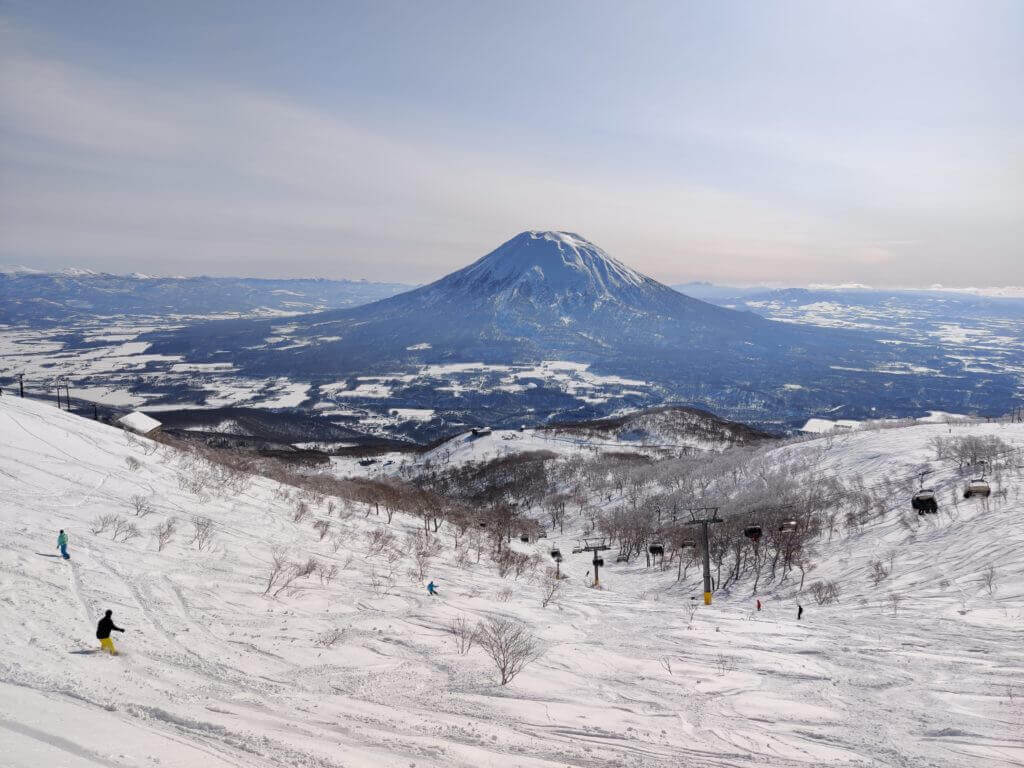 Grand Hirafu and Niseko Annupuri Resorts
Opening Date: 2 December 2023        Closing Date: 6 May 2024
No new lifts or any other improvements have been announced by either resort. We are looking forward to having all the lifts running this season.
Niseko Hanazono and Niseko Village Resorts
Opening Date: 2 December 2023        Closing Date: 7 April 2024
Hanazono and Niseko Village have not announced any new additions for this winter season. We expect the gondolas to operate as usual and night skiing to be available for beginner courses.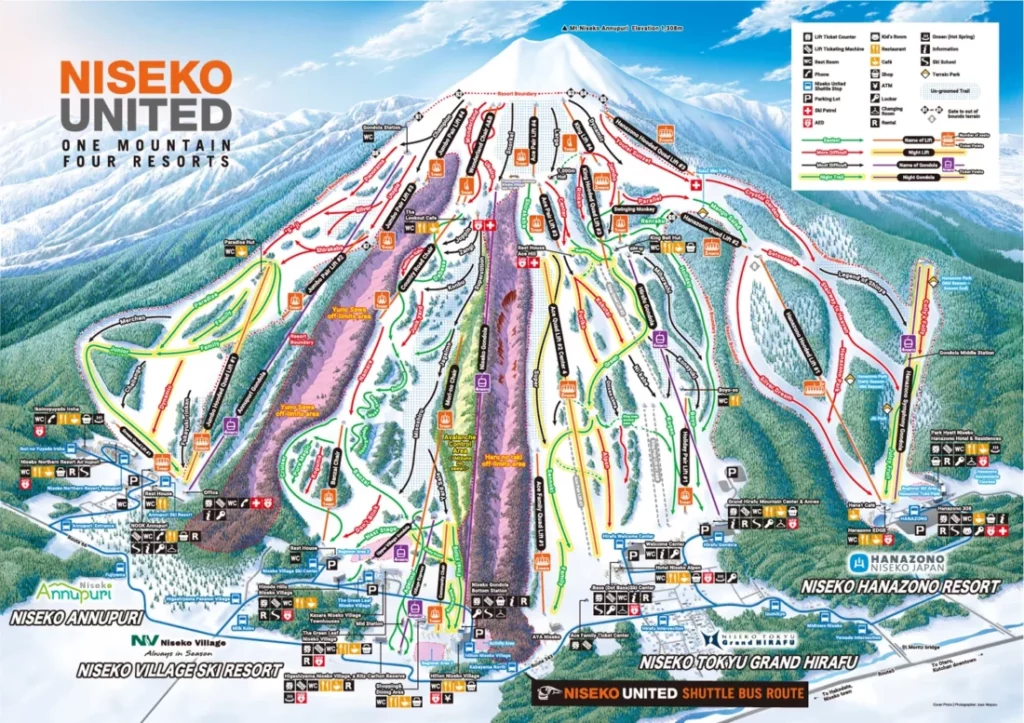 Opening Date: TBA        Closing Date: TBA
There is no night skiing available in this small ski jo. Keep in mind that this ski hill is not part of the Niseko United common ski pass. It is popular for powder skiers as the skiing out of the gates offer some nice and fun terrain. Local ski clubs also train here but in general, the resort is very quiet.
Opening Date: TBA        Closing Date: TBA
Rusutsu is just a 45 min drive from Niseko and is the largest ski area and resort in Hokkaido. It is our favourite for many reasons but in particular, the long ski runs and hooded chair lifts.
The resort has a hands-free lift ticket machine pick up service. Simply buy a pass online and pick it up at the machine in the resort. You can always upload more days to the pass that you hold in your pocket. It is simple to use and similar to the Niseko United lift pass system. 
Opening Date: 17 November 2023        Closing Date: TBA
This ski resort is the first in Hokkaido to open and its proximity to Sapporo city makes it very popular with locals. From Niseko it takes more than an hour drive but with local tourist attractions to see along the way, it's worth the long day trip. The resort has rebuilt their fairytale bell at the base of the ski resort. The rest of the resort has no changes.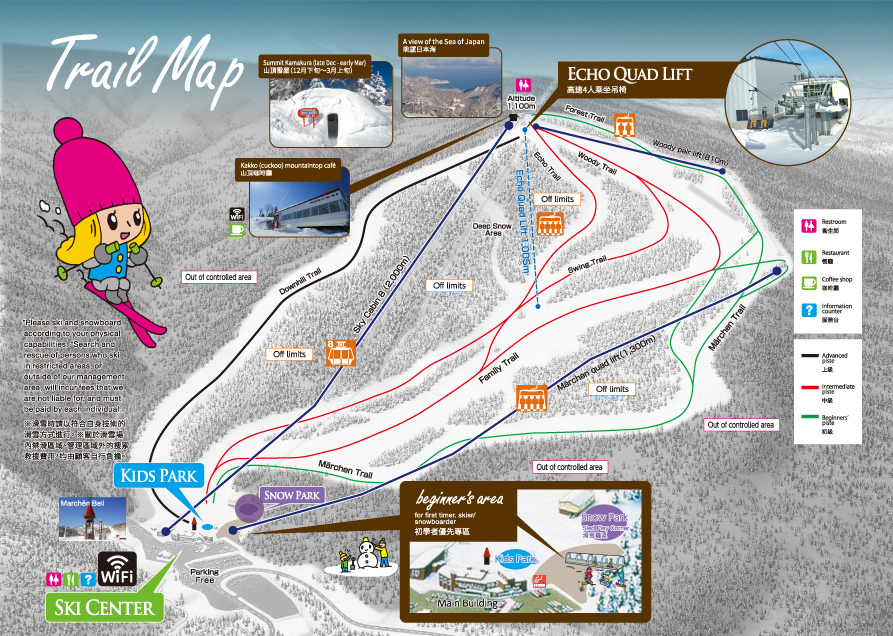 Opening Date: 1 December 2023        Closing Date: 6 May 2024
One of the snowiest resorts in the area is scheduled to open as early as Niseko. This is a small resort and popular with weekend skiers from Otaru and Sapporo. It is a good hour drive from Niseko and offers great powder terrain and backcountry possibilities. There are no new developments to report.
Opening Date: TBA       Closing Date: TBA
This small ski slope, on the way to Sapporo city from Niseko via the Nakayama mountain pass, is normally one of the first to open in the Niseko region. However, this resort is then closed during the winter season and reopens for spring season. It is popular with the locals and snow park users. If you want to ski some spring slush, we can to take you to this resort as part of our custom tours.
Opening Date: TBA       Closing Date: TBA
This Olympic resort overlooks the city of Sapporo. The resort has two major zones; one is more suited for beginners while the other for more advanced levels, giving the opportunity to explore some sweet and steep sidecountry terrain.  There are no new updates to the ski lift infrastructure.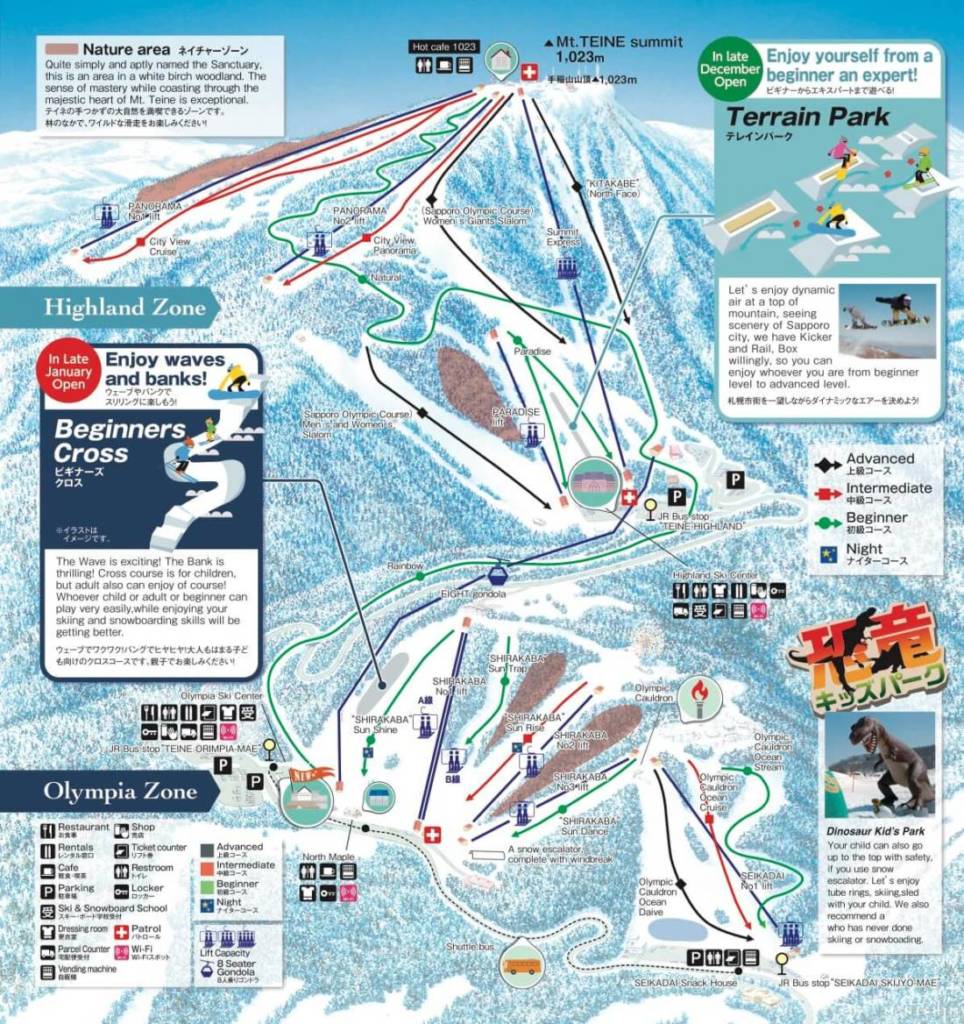 Central hokkaido region resorts
Opening Date: 1 December 2023       Closing Date: 31 March 2024
Tomamu is a popular small ski resort with Hoshino hotels on one side and Club Med resort on the other. Night skiing is available and families with kids can enjoy the largest indoor pool in Hokkaido. The runs are fun and also get a lot of powder during the January and February months. There are no new developments except for some new restaurants in the Hoshino side.
Please enquire for private lessons with our small team of instructors based in the Tomamu ski resort.
Opening Date: TBA       Closing Date: TBA
This family friendly ski resort has two zones – Furano and Kitanomine. The Furano zone is where the New Prince hotel is situated as well as the Furano ropeway. Night skiing is available on both sides of the mountain but they are not connected during the night operation. The infrastructure is not getting any updates but there are plenty of activities that can be enjoyed by the whole family. 
Opening Date: TBA       Closing Date: TBA
This high alpine Hokkaido ropeway takes skiers up the Asahidake mountain and offers plenty of opportunities for backcountry tours. The small groomed ski runs service the bottom area where you can enjoy some nice tree skiing as well. The weather can be harsh here and many hazards in the area so we recommend hiring a mountain guide when skiing Asahidake.
Read more: Why you should hire a mountain guide
Daisetsuzan Sounkyo Ropeway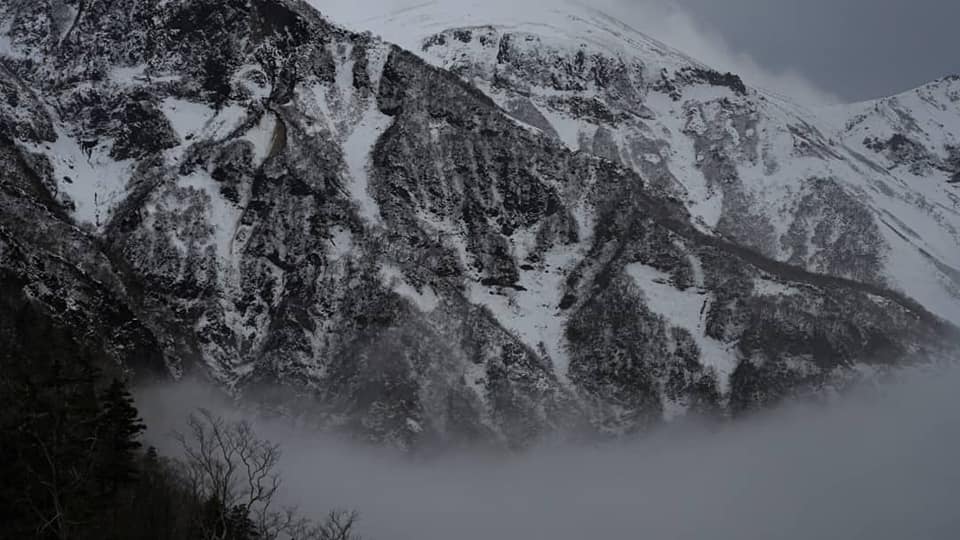 Opening Date: TBA       Closing Date: TBA
This is a high alpine ski resort serviced by a ropeway and a double chair ski lift where one can ski on the short groomed run. It is normally one of the first ski resorts in Hokkaido to open, but has been postponed due to lack of snow. There are great multiple day backcountry opportunities in the area. For a unique experience, hire one of our UIAMG qualified mountain guides to guide you through the highest mountain range in Hokkaido.
Let the Hokkaido Winter 2023/2024 Season begin
As the winter season approaches, anticipation builds for the opening of Hokkaido's premier ski resorts. Whether you're a seasoned skier or a beginner eager to try out the slopes, Hokkaido offers a diverse range of resorts to suit every skill level and preference. Don't miss out on the opportunity to carve through the legendary powder snow that blankets these majestic mountains. Keep an eye on the opening dates we've provided, and start planning your unforgettable ski adventure in Hokkaido. With the promise of thrilling runs, stunning landscapes, and warm hospitality, the winter of 2023-2024 is shaping up to be an exceptional season in Japan's snowy paradise.
Our team are here to serve you better so feel free to get in touch with us at any time with any questions. We look forward to seeing you on the mountain.